Welcome to Conejo Valley Plumbing Website
Full Service Plumber and Plumbing Repair Services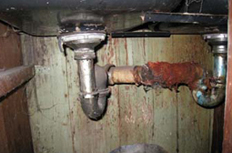 Conejo Valley plumbing is your first choice for a full service plumber that can inspect your plumbing system and give you realistic solutions to repair your plumbing problems. We service the entire Los Angeles area and have been providing quality plumbing services in Conejo Valley since 1939. Our team of plumbers in Conejo Valley is familiar with the latest equipment and is able to use the most efficient techniques to save you money. Conejo Valley Plumbing has been setting the standard in plumbing repair and services for over 72 years strong. So when you need the expertise of a proven plumbing service in the Conejo Valley area, call us for your small jobs, your residential jobs, and your commercial jobs.
 Our plumbing professionals are available to help you with all aspects of plumbing in the Conejo Valley. Our expert plumbing services can detect leaks, inspect earthquake valves, and perform all major plumbing services. Why settle when you can call the best service in your area.

If you reside in the Conejo Valley and have been looking for a dependable plumber, you have found them at Conejo Valley Plumbing. Call now for more information about the best plumbers in Conejo Valley 800-729-8149. We look forward to helping you with all of your plumbing repairs and services.