About
Rooter, Water Leak and Leak Detection
Your first Choice for Rooter Repair, Water Leak, Service Plumber and Plumbing Repair Services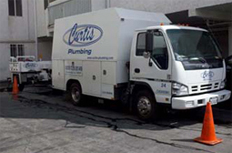 With over 70 years of experience, Conejo Valley Plumbing has been offering a variety of plumbing repair services. We specialize in detecting water leaks, slab leaks, gas leaks, and more. Technology has advanced, and so has the degree in which we use it to improve your plumbing experience. We use the latest equipment to diagnose the impact of slab leaks on your concrete, and provide you with solutions to fix this. Not all plumbers have the experience and the knowledge necessary to deal with slab leaks, and with more and more homes being built atop concrete slab foundations, we feel that this is an important service to provide our Conejo Valley customers.

Our experienced plumbers have been working throughout the Metropolitan Los Angeles area to help solve minor and major plumbing issues. Some of our most sought after services include bathroom leaks, kitchen leaks, water heater repair and service, sewage clearing, and almost anything else that you can think of that is plumbing related.
Rooter repair, leak repair, and emergency services are some of the things that we offer here at Conejo Valley Plumbing. We pride ourselves in being available for you 24 hours a day to fix any plumbing issue. Call us now for more information or to request that one of our qualified Conejo Valley plumbers come out and take a look at your plumbing problems. If you live in Conejo Valley and are in need of emergency plumbing services don't hesitate to call 800-729-8149.